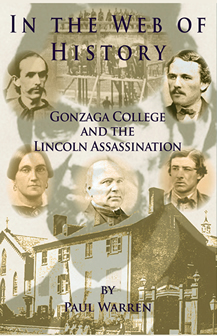 A book on the Lincoln assassination reveals scores of interconnections between Gonzaga College High School and the president's murder, ranging from the assassins themselves to a key witness, an arresting policeman and the doctor who treated the dying Lincoln and later identified the corpse of assassin John Wilkes Booth.
In the Web of History: Gonzaga College and the Lincoln Assassination by Paul Warren is a social history of the time, and notes that the school, then Gonzaga College, was within a stone's throw of Ford's Theater, where Booth shot Lincoln. As such, scores of alumni, their parents, teachers and relatives played important roles in one of the most dramatic events in U.S. history.
Some 40 individuals and places associated with Gonzaga are written about In the Web of History. Their names appear throughout the Lincoln assassination literature but most never were connected to Gonzaga until now.
Michael W. Kauffman, author of American Brutus: John Wilkes Booth and the Lincoln Conspiracies, writes that In the Web of History is "...a fascinating account of the Gonzaga Connection, and I'm amazed by all the research that went into it." Kauffman's book is viewed by many historians as the best and most comprehensive ever written about the assassination.
In the Web of History: Gonzaga College and the Lincoln Assassination, 135 pages with scores of pictures and reproduced documents, is being published by Vellum Press. It can be purchased for $20, all tax deductible. All proceeds will go to Gonzaga College High School.
Warren previously co-edited Echo Ever Proudly: Gonzaga College High School in the Press 1821-1899, now also available with a tax deductible contribution of $20.
---
To order by check, make it payable to "Gonzaga College High School" and mail it to:
Paul Warren
2115 Ward Ct. NW
Washington, DC 20037
To place your order by credit card, or if you have questions, contact Mr. Paul Warren at 202-872-9202 ext. 247 or pwarren@warren-news.com.